The Complete
Ad Viewability
Resource Center
Defining Ad Viewability
Viewability is a metric by which advertisers gauge the likelihood of an ad on your site being seen by potential customers. It answers the question of how often visitors may see ads placed on your site.
Viewability is demonstrated as a percentage that reflects the number of ad impressions that met the Interactive Advertising Bureau (IAB) and the Media Rating Council (MRC) standards for an ad to be considered "viewable". This helps advertisers calculate the likelihood of a positive outcome for their advertisement, which impacts their decision to bid and if so, exactly how much.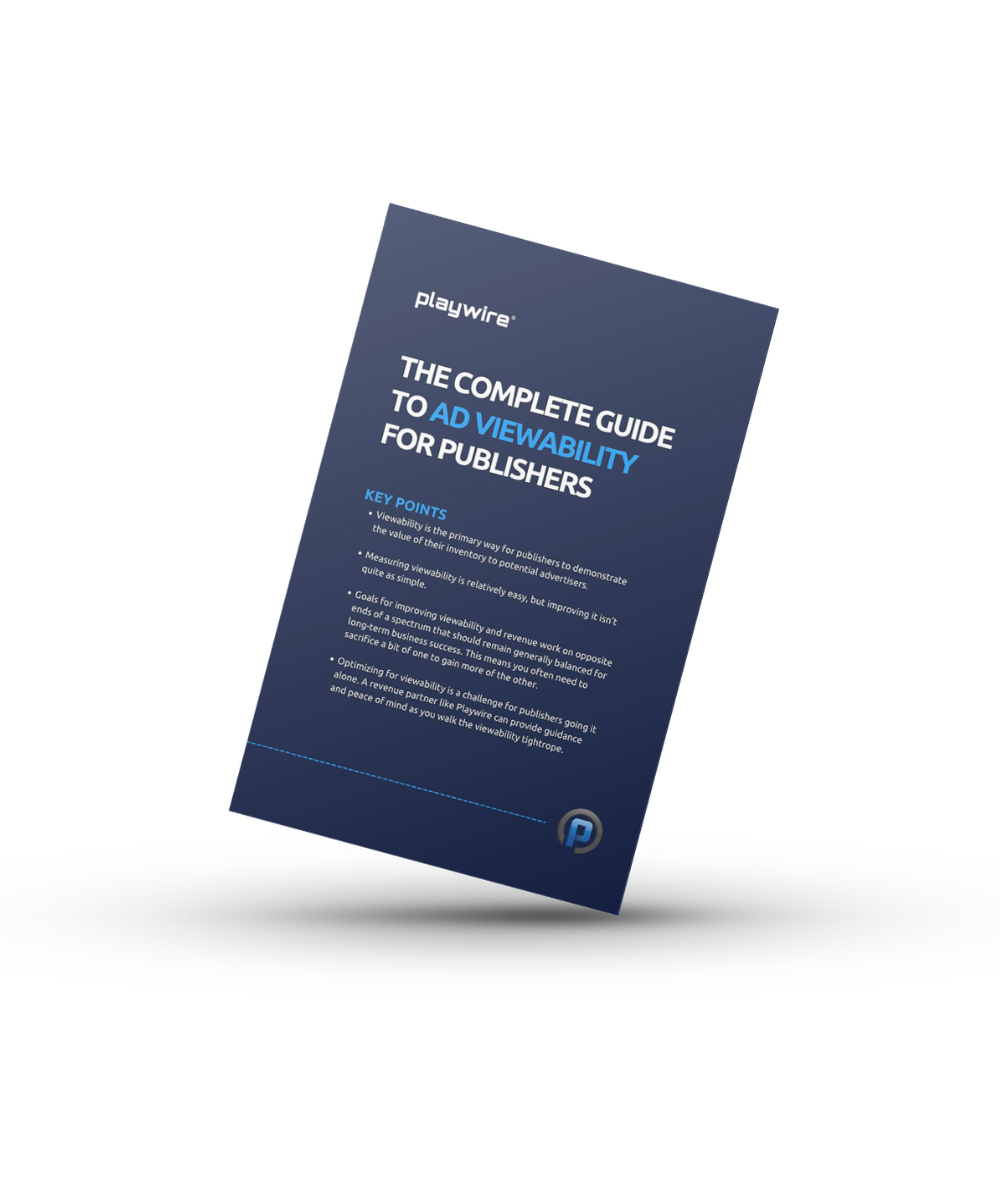 The Complete Guide to Ad Viewability for Publishers
GUIDE
Read all about ad viewability from A-Z with this guide from our experts.
A Guide to Video Ad Viewability
Video ad viewability is as important a metric as you'll find for demonstrating the value of your video ad inventory to advertisers. Check out our complete guide to video ad viewability below.

Everything You Need to Know About Mobile Ad Viewability
Similar to web viewability in most ways, the main differences between desktop and mobile ad viewability are the environment and the challenges when it comes to optimizing. In this article, we walk through all the differences to know when it comes to desktop vs. mobile ad viewability.
Advanced Yield Analytics Drive Strategic Business Decisions for GTPlanet
2X
GTPlanet doubled their ad revenue over their previous solution when they joined Playwire.
How to Calculate and Measure Viewability Metrics
The standard formula for calculating viewability rate is (total viewable impressions / total impressions) x 100, which represents a good baseline, but there are a number of additional factors that must be considered in reference to viewability. Learn all you need to know about calculating viewability below.
Strategies for Improving Ad Viewability
Managing the delicate balance between revenue and ad viewability is not a simple task. In fact, it requires constant maintenance,
adjusting ad layout and individual ad unit settings. Learn several strategies for improving ad viewability, here.
Frequently Asked Questions About Ad Revenue
What makes an ad viewable?
The IAB and the MRC's qualifications help standardize viewability in the digital advertising industry.
There are a lot of variables across formats and devices, but the standards remain the same for mobile and desktop publishing. That being said, the viewability standard differs for video and display ads because the environments for each format vary so drastically.
Here's a rundown —
Standard display ads: must be 50% visible on the screen for a minimum of one second.

Large display ads: any display ad larger than 242,500 pixels must be 30% visible for a minimum of one second.

Video ads: the video frame must be 50% visible and the video must play for a minimum of two seconds.

That's it. Viewability doesn't indicate whether a visitor will see the ad for longer than a second or two. It's only meant to predict the likelihood that the ad will be seen at all. Everything else — engagement rate, CTR, watch time — is up to the strength and success of the creative.
What are some other terms I need to know in reference to viewability?
When talking about viewability, there are quite a few terms that you should know including —
Ad calls/ad requests: the term for each time an ad is shown on a site during an active session. An ad call or request doesn't necessarily mean an ad will be viewed by a visitor, but that it will be displayed for potential viewing.
Average viewable CPM: the average amount you pay for one thousand viewable impressions. This rate doesn't factor in impressions that weren't viewed, so it can provide insights that help you understand the price of your viewable impressions.
Measurable cost: the entire cost of all impressions measured. Use this metric to gauge how much was spent on your measurable impressions.
Measurable impressions: the number of ads served that your reporting tool was able to measure. Most, but not all, ads served are measurable by all reporting tools. Impressions that were unable to be measured are known as non-measurable impressions.
Measurable rate: a calculation of measurable impressions and total impressions that demonstrates the rate at which your impressions were accessible to your reporting tool.
Viewable CTR: a measurement of visitors who clicked a viewable ad.
Viewable impression: an ad served that met the minimum standards to be considered viewable.
Viewable impression distribution: a metric that demonstrates the percentage of both measurable and non-measurable impressions that qualified as viewable.
Viewability rate: the rate at which your impressions qualify as viewable.
What tools should I use to calculate viewability?
Some of the best analytics tools for accessing viewability data include MOAT and Active View, but you can also use tools like Smaato or InfoLinks to measure and report on viewable impressions. All of these tools follow the same viewability standards established by the IAB and the Media Ratings Council.
MOAT by Oracle
MOAT is the industry standard for measuring viewability and other performance indicators like CPMs and CTR.
MOAT's software updates viewability data every 200ms, and using JavaScript can be measured across all browsers.
Google Active View
Google Active View is another tool you can use to measure viewability. It is native to Google Ad Manager, AdSense, and AdMob. Since these are considered the most commonly used platforms and networks across the digital advertising industry, Active View is an accessible option for all publishers.
What is the formula for calculating viewability?
(Total viewable impressions/total measurable impressions) x 100 = your viewability rate as a percentage
What are the biggest benefits of improving ad viewability on my site?
When optimized correctly, and under the right circumstances, viewability has the power to skyrocket your revenue in two main ways —
By unlocking more demand and increasing your fill rate
By increasing the value of your inventory
Accelerate your business and uncomplicate your ad tech stack, because you deserve a partner and a platform that demands more for you.